Dr Sheth is an Indian skincare brand that produces highly researched products. It is made specifically for Indian skin type. As you already know Indian skin is prone to pigmentation, sun damage, etc. Find Dr Sheth's discount coupon below.
Discount Coupon Code
KHADIJA for 20% off.
No minimum cart value and
can be used multiple times.
My favourites from Dr Sheth are Daily Brightening Cleanser, Gulab and Glycolic Toner, Sulphur Face Mask. I also like the Moringa Vitamin C Cleansing Oil, Date & Quinoa Eye Cream amongst others. These suit all skin type, however, the Sulphur Face Mask is excellent for acne-prone skin. I have oily skin with acne and this works great for me. You can also use this face mask as a spot corrector. Most of Dr Sheth's products are multi-purpose.
Dr Sheth's Product Detail:
Dr Sheth's Basic Brightening Daily Cleanser is a mild cleanser and I use it mostly in the AM routine. This dermatologist formulated cleanser addresses the effects of intense pollution and dust on Indian skin. It also removes particulate matter caught in pores and gives a fresh, hydrated, and bright glow. Ingredients like rosehip seed extracts, vitamin E repair pollution-induced damage. While coconut-based cleansing agents and almond oil provide a deep cleanse without drying out the skin.
Dr Sheth's Gulab & Glycolic Toner is an AHA based toner that helps take care of texture, pimples, etc. This product tones, brightens, conditions, and exfoliates the skin. Glycolic Acid allows mild exfoliation which enhances penetration of actives from serums and creams. Furthermore, rose water along with aloe vera and calendula extracts calm the skin.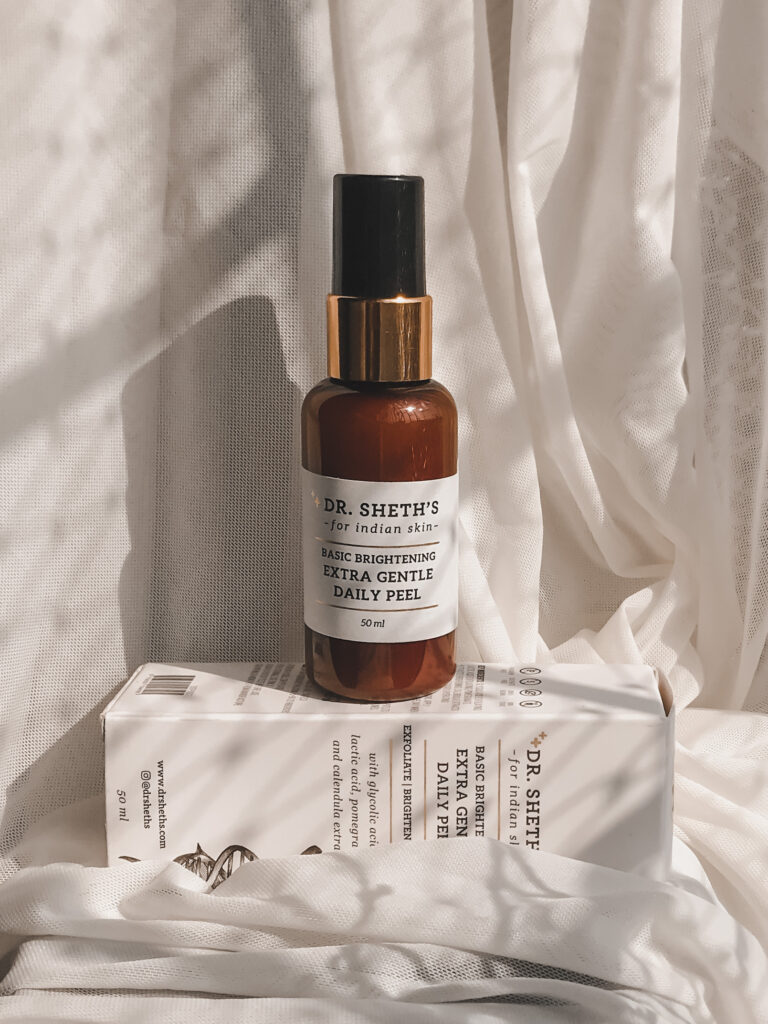 Dr. Sheth's Clarifying Sulphur Face Mask helps acne and unclogs pores. It is suitable for acne-prone skin. This mask combines Sulphur with natural clay extracts to provide the ultimate detox for pores. Sulphur exfoliates, while cinnamon bark controls excess oil production. Lecithin and passion fruit oil help to prevent dryness, maintain hydration and oil balance.
Dr. Sheth's Date & Quinoa Eye Cream helps with dark circles, fine lines, and puffy eyes. This product contains ingredients like Date and Quinoa Seeds, Hyaluronic Acid, Shea Butter, and Niacinamide. This helps strengthen the thinner under-eye skin. It also battles pigmentation and diffuse blood vessels for a brighter look. Hyaluronic Acid and Shea Butter ensure the skin stays hydrated and nourished.
Dr. Sheth's Moringa & Vitamin C Cleansing Oil: It is a coconut oil-based cleanser that helps to break down impurities and deeply cleanses the skin. It works to eliminate pollution damage, deep cleanse, and repair skin. Rose Oil, Passionfruit Oil, and Vitamin E give all-round healing cleanse.
Dr. Sheth's Discount Coupon: KHADIJA
To read my review on Dr Sheth's click here.