Dr Sheths Ceramide and Vitamin C Sunscreen DEALS
Can I have enough moisturising SPFs? No! And Dr Sheths Sunscreen has genuinely wowed me.
You might have seen the Dr Sheths Sunscreen all over Instagram these past couple of weeks, and for all the right reasons! This moisturising SPF works beautifully for people with oily acne-prone skin + reduces the step of moisturiser in the morning.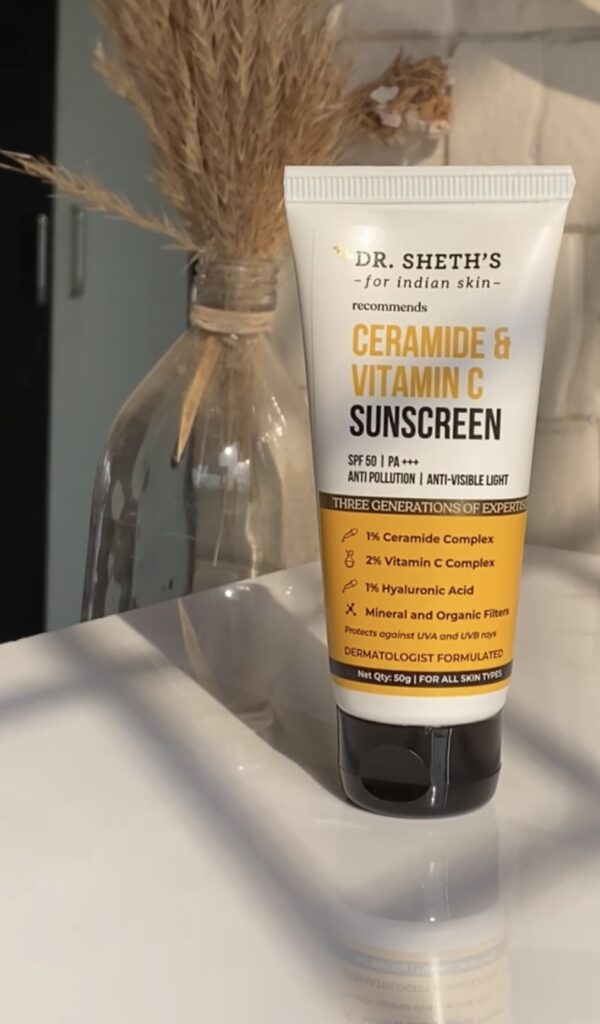 It is a lightweight moisturising sunscreen that is easy to apply and blend. It works well for oily acne-prone skin and does not leave a white cast. I don't particularly appreciate using too many products, especially during summers, and this little thing has made life relatively easy for me. Now all I have to do is go in with a cleanser and this sunscreen, and that's it.
Some of its notable ingredients are
1% Ceramide Complex- it helps strengthen the skin barrier
2% Vitamin C Complex- prevents micro-pigmentation
1% Hyaluronic Acid- provides deep hydration
Mineral and Organic Filters- ensures optimum protection from UV rays
Apart from being vegan and cruelty-free, this sunscreen also protects from UV rays, moisturises, helps repair skin damage, and is perfect for sensitive Indian skin.
Code: KHADIJA for 20% off. Watch the application video here.
If you want to read more about skincare, click this link.
*contains affiliate links/codes
The Review
Dr Sheths Ceramide and Vitamin C Sunscreen
A moisturising sunscreen that suits acne-prone skin and is perfect for the Indian skin.
PROS
non-greasy formula and settles dewy
does not cause breakouts or clog pores
easy to apply and has a soothing effect
it is fragrance-free but smells pleasant
does not pill on me during reapplication
no white cast
SPF 50 with PA+++
works well for oily acne-prone skin
lightweight and moisturising
CONS
it is not water resistant
may feel slightly sticky upon application but settles fine
Dr Sheths Ceramide and Vitamin C Sunscreen DEALS
We collect information from many stores for best price available
Best Price
Rs. 499