Dr. Sheth's has been one of those brands that I have come to love. Everything that I have tried from them so far as worked marvelously for my skin. The fact that it is formulated especially for Indian skin, keeping in mind that we are prone to pigmentation, is an added benefit.
If you don't already know, I have an insane love for their Date & Quinoa Eye Cream. So when I finally got my hands on this bundle, I was overjoyed. This bundle is also excellent for people with acne-prone skin. It consists of the Basic Brightening Daily Cleanser, Gulab & Glycolic Toner, and the Clarifying Sulphur Face Mask.
My Thoughts:
Basic Brightening Daily Cleanser
It is an amazing cleanser, especially for oily acne-prone skin. It does not dry out the skin, is super hydrating. The way it takes away dirt and cleanses the skin is amazing. Few of its major ingredients are Rosehip Seed Extract- brightens and removes scars, Vitamin E- repairs, Almond Oil- hydrates. The only thing that I don't like about this is the added perfume. Fragrance doesn't benefit the skin in any way. It is added to improve the user's experience. Although fragrance in skincare products generally does not irritate most skin types, it is recommended to use unscented products as and when you can.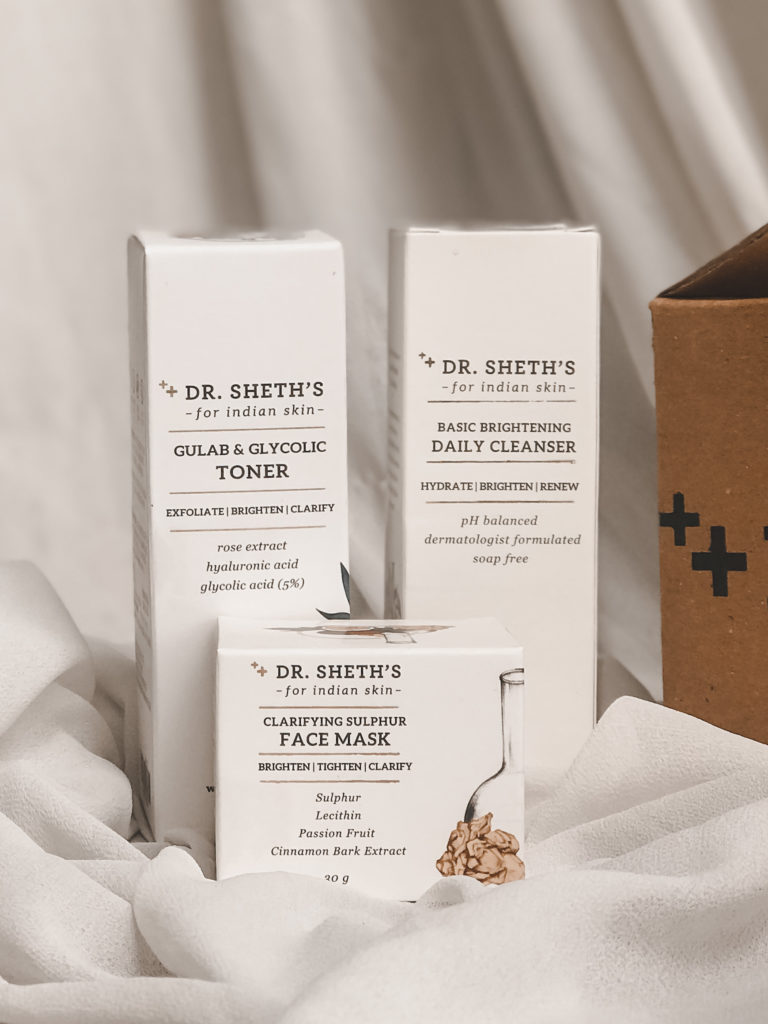 Gulab & Glycolic Toner
If you have been seeing acids all over the internet, and want to incorporate it in your routine. This is a great place to start. The Gulab & Glycolic Acid Toner is great for beginners. It contains rose water which is amazing for hydration and glycolic acid which exfoliates, reduces fine lines, hyperpigmentation and uneven skin tone. Glycolic acid is great for all skin types, even for those with wrinkles and fine lines. It also includes Aloe, Calendula, Green Tea to help condition and repair the skin. Allantoin and Niacinamide help reduce redness and brighten the skin. Overall this is an excellent product with some great ingredients in it. Remember to avoid other actives while using this toner.
Clarifying Sulphur Face Mask
This is a great multi-tasker. It has worked tremendously well for my acne-prone skin. It cleanses pores well (thanks to all the pore cleansing clays like kaolin, bentonite). The best part is the fact that it does not cause dryness. As a spot treatment, it works decently. For small pimples, it works well, for bigger ones it takes quite some time to heal. Sulphur as an ingredient is great for acne, it has exfoliating properties. Cinnamon Bark controls excess sebum production. It also contains Lecithin and Passion Fruit Oil which prevents dryness, maintain hydration and balances oil. My only problem again is the fragrance.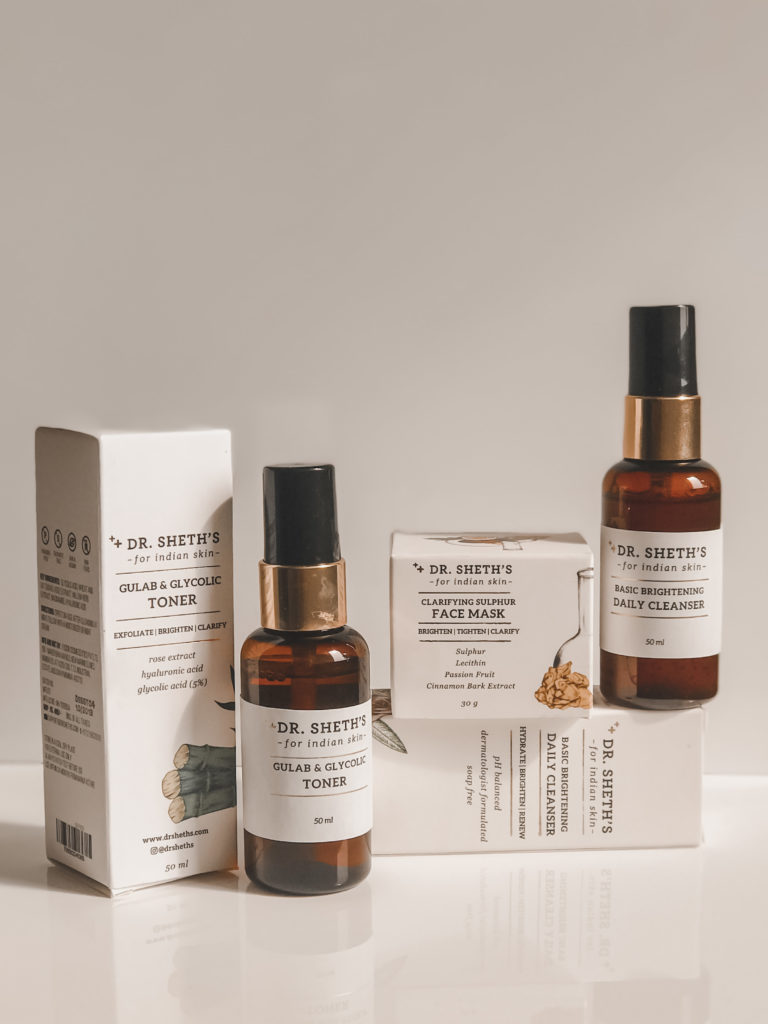 Would I Recommend Dr. Sheth's?
Yes, if you have normal and healthy skin, the added perfumes won't be as bad. For sensitive skin or damaged skin, I would recommend going for unscented as much as you can as fragrance provides no added benefits. It is a shame because I love the cleanser and the mask. The toner is amazing, but please remember to top it with SPF. Dr. Sheth's truly has some amazing products and it is a must-try.
You can use my code KHADIJA and get flat 20% off on your purchases.
The Review
Dr. Sheth's Acne No More
This is an amazing starter pack for anyone suffering from acne. The cleanser is super gentle and takes away dirt easily without causing dryness. The toner helps prep the face for serums and treatments, It also helps with pigmentation and dullness. The Sulphur mask is great for cleaning pores and controlling oil and acne.
PROS
Cleanser does not dry out the skin, is super hydrating. The way it takes away dirt and cleanses the skin is amazing
Toner hydrates, conditions, repairs and prevents dullness
Mask controls sebum, exfoliates, helps reduce acne
Comes in user friendly packaging
Cruelty free, non toxic, sulphate and paraben free