I have never really taken good care of my eye. I thought my serum or moisturizer would be enough. When I started noticing dark circles, I decided to give eye creams a shot. It was a lot of trial and error for sure. Some did not suit me, some would make my eyes burn and some that didn't work at all. Dr Sheth's intrigued me a lot. Mainly because they formulate their skincare based on Indian skin. I have also been trying to look more into Indian brands. Dr Sheth's Date & Quinoa (code KHADIJA for 20% off) eye cream comes in a gorgeous white outer packaging with a velvety touch. The actual product comes in a tiny 10g glass jar with an inner lid and a gold cap.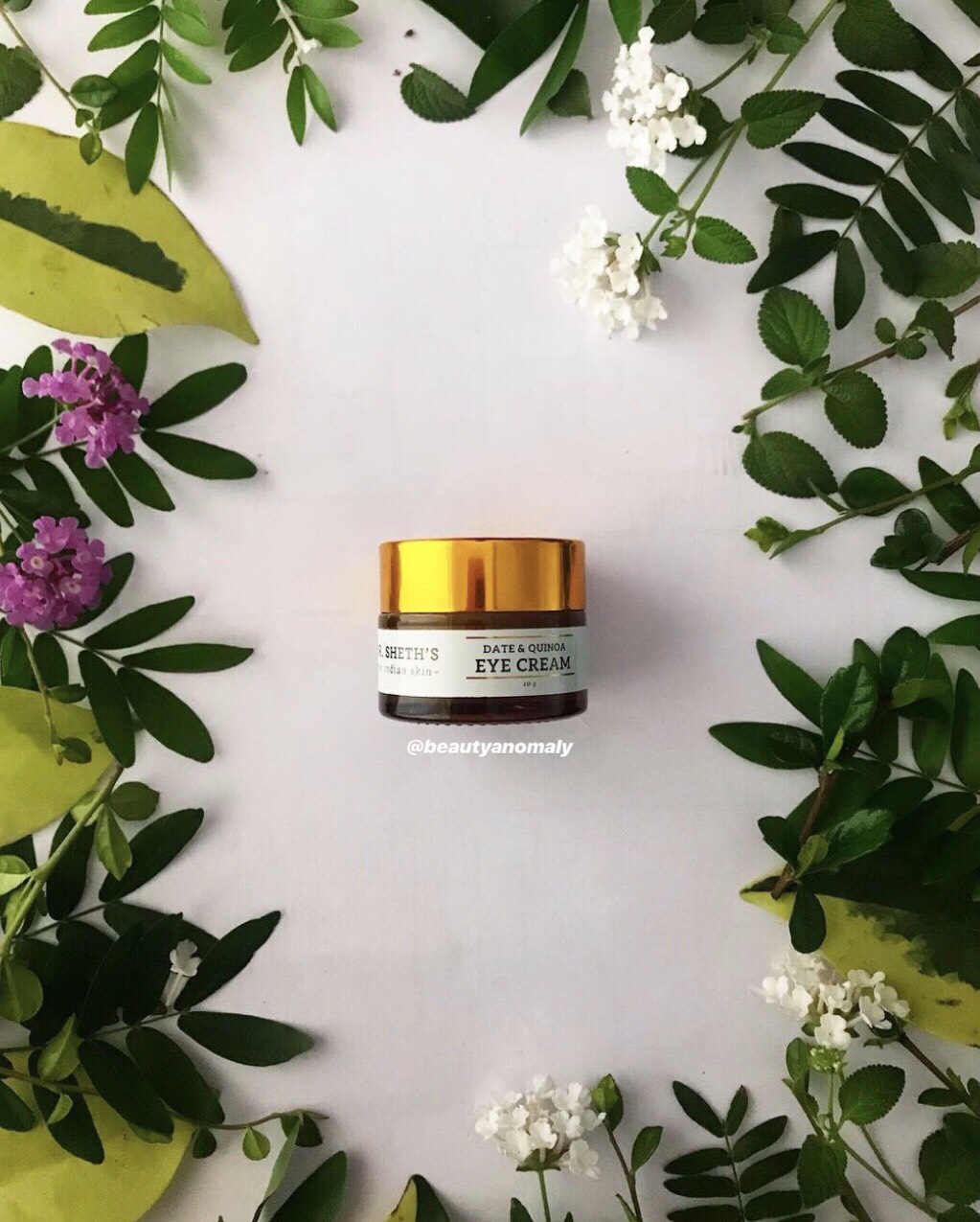 It is made out of some powerful ingredients. Date seed which helps in brightening. Quinoa which has calming properties. Hyaluronic Acid helps in retaining moisture.
I have used this product for 2 months now. And noticed that this will not help in removing dark circles if your lifestyle is not accurate. I noticed that whenever I'd sleep on time and get a proper 8 hours sleep, have my nutrition and water in check, I ended up having almost no dark circles or under-eye bag. It looked hydrated, fresh and nourished. But the moment my sleep schedule took a toll, I could notice my dark circles returning. However, they weren't as extreme as before.
Skincare tip:
Apply a thin layer of it after your toner and before moisturizer. Pat the product in instead of rubbing it, to avoid irritating the eye and causing wrinkles.
I absolutely love this product. It not only helped me calm my under eye area, but it also makes me look more awake and it keeps my under eye extremely hydrated and moisturized.
If you like reading about skincare, take a look at my articles.
Use code KHADIJA for 20% off on their website. 
The Review
Dr. Sheth's Date and Quinoa Eye Cream
This eye cream nourishes, hydrates and calms the under-eye area and also makes you look more fresh and awake. The smell is absolutely beautiful and one jar will easily last for 2 and a half month.
PROS
Reduces puffiness and lightens dark circles.
Hydrates and brightens the under eye.
Keeps the under eye moisturized.
Has a thick creamy consistency that is easily absorbed.
Has an amazing fragrance.
Comes in a travel friendly, luxurious glass tub.
Suitable for all ages.
A small tub lasts for 2.5 months with regular use.