In times of facial oils and serums, I knew one thing for certain, these are not for oily skin. Like the idea of having anything other than a face wash and toner would scare me away. Be it creams or serums or oils. However, me being the impulsive human that I am, I decided to give Innisfree Green Tea Seed Serum a shot.
Let's see if The Green Tea Seed serum was worth it or if I shall go back to being the anti serums and facial oil person that I was.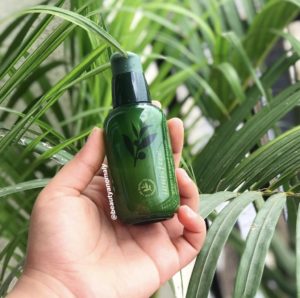 The Green Tea Seed Serum is rich in amino acid and minerals which helps in hydrating and moisturizing the skin. It comes in a green bottle with a pump dispenser and has a white cloudy texture, which absorbs quickly.
Will I recommend Innisfree Green Tea Seed Serum ?
This serum converted me! It is worth every penny. It works brilliantly and will turn your skin into something that you would have only hoped to have. *EDIT: Innisfree is not Cruelty-Free and hence I have discontinued using them.
However, an alternate to this seerum would be the Klairs Rich Moist Soothing Serum. It is excellent for people with sensitive skin. It soothes and helps with inflammation. You can use code KHADIJA and get 10% off.
Also, if you like reading about skincare, take a look at my articles.
The Review
Innisfree Green Tea Seed Serum
The serum has a beautiful fragrance, gets absorbed almost immediately, does not make the face greasy. It is a little on the expensive side but will last you over 9 months even with regular use.
PROS
Makes the skin super soft.
Hydrates the skin efficiently.
Gets absorbed immediately.
Does not feel sticky, oily or tacky.
Has a beautiful and mild fragrance.
A little goes a long way.
The packaging is very user friendly.