I wanted to talk about the Inatur Charcoal Face Wash that I've been using for almost a month now. Charcoal is very much in trend at the moment in the skincare industry, and because of which most of us are always drawn to anything that has charcoal written on it.
Although this is great for marketing, it's not the same for skin. I've used a few charcoal products in the past that didn't live up to expectations and few that even did some damage.
So when I received this, I was skeptical about how it'll work out. However, after using it for almost a month now, I think I can pen down the pros and cons that come along with it.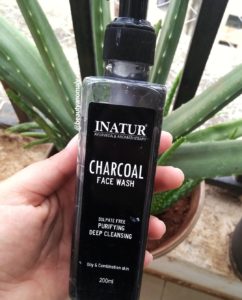 Will I recommend it?
Yes, definitely. It might look a little pricey but it's definitely worth it.
The Review
Inatur Charcoal Face Wash
This face wash has a jelly like consistency that cleanses the face without making it dry or dehydrated.
PROS
Does not dry out the face post usage.
Controls sebum.
Cleans effortlessly and is extremely gentle on face.
Will lather if you pump twice, but that's more than what's required.One pump is more than enough for one wash.
The packaging is very user-friendly if not travel.
Reveals a clean, glowy and radiant face.
Vegan, Recyclable.
CONS
I'm personally not a big fan of the fragrance.
The packaging isn't travel friendly.