Never thought I would actually do "Flying With Pets In India" in the blog. But if you follow me on Instagram, you know my cats, Chai and Lassi are integral parts of my life. I haven't seen my grandparents in over two years because I did not know how to travel with my cats for the longest. Flying with pets in India is a huge task. Most airlines don't take them. And the few that do carry pets in hold took down their service due to COVID19.
Before I begin, thank you Aafreen and Aziz for guiding my lost soul repeatedly.
For starters there are three ways you can travel with your pets.
A. Via Road – You can use your own vehicle. There are services like pet taxis as well, charges aren't convenient.
B. Via Rail – You have to either book a First Class AC or put them in luggage. You can keep your pet with you. However, should someone complain, then your pet goes in the luggage compartment. Where the responsibility to feed is on you. You should take a look at this article.
C. Via Air – Now this was my choice of travel. Usually, SpiceJet allows pets in the hold, but due to Corona, they shut that service down. Leaving me with only Air India. Air India has quite a clear policy, although I wish the website was clearer. The customer support helped, but only halfway.
Anyway, you can walk right into the airport with your pet. Make sure to carry a valid vaccination report along with a Fit To Fly certificate from your vet. Make sure it is not older than 10days. If your pet is 5kgs or under 5kgs with its carrier, you're lucky. You can take it in the cabin with yourself. You and your pet will sit in the last row. If your pet is flying in the cabin, ensure that your carrier meets the requirements. If they're going in the hold then you can carry a carrier comfortable for them. Something that is spacious enough for them to move in. Look for IATA approved carriers. I will explain my journey below.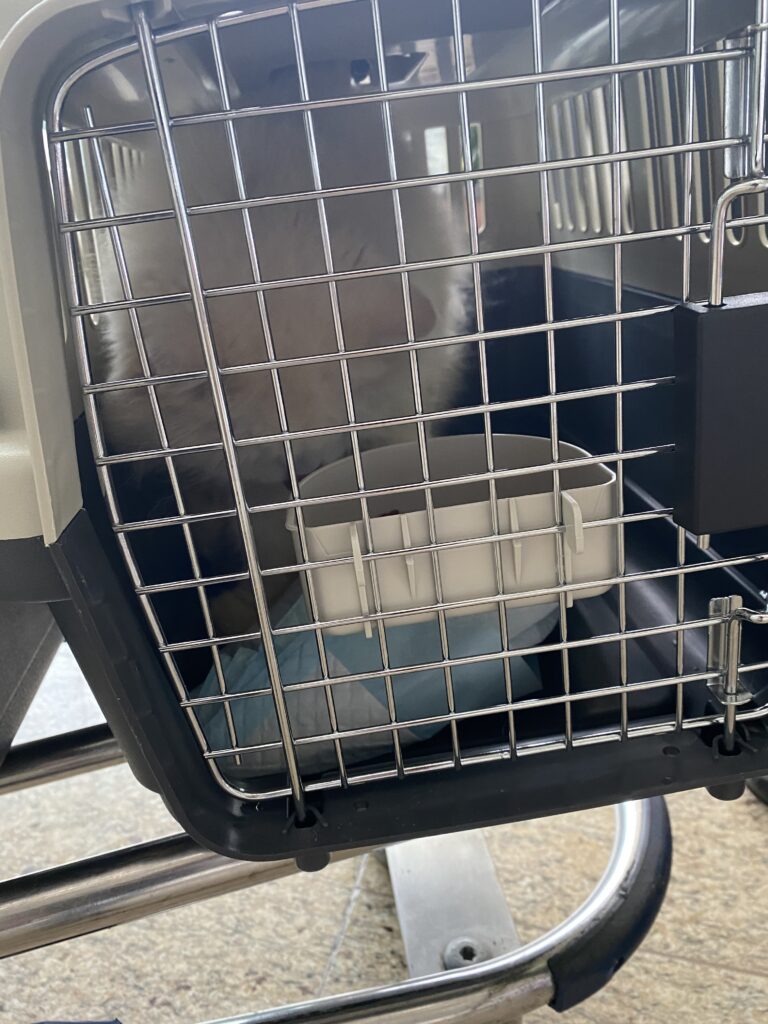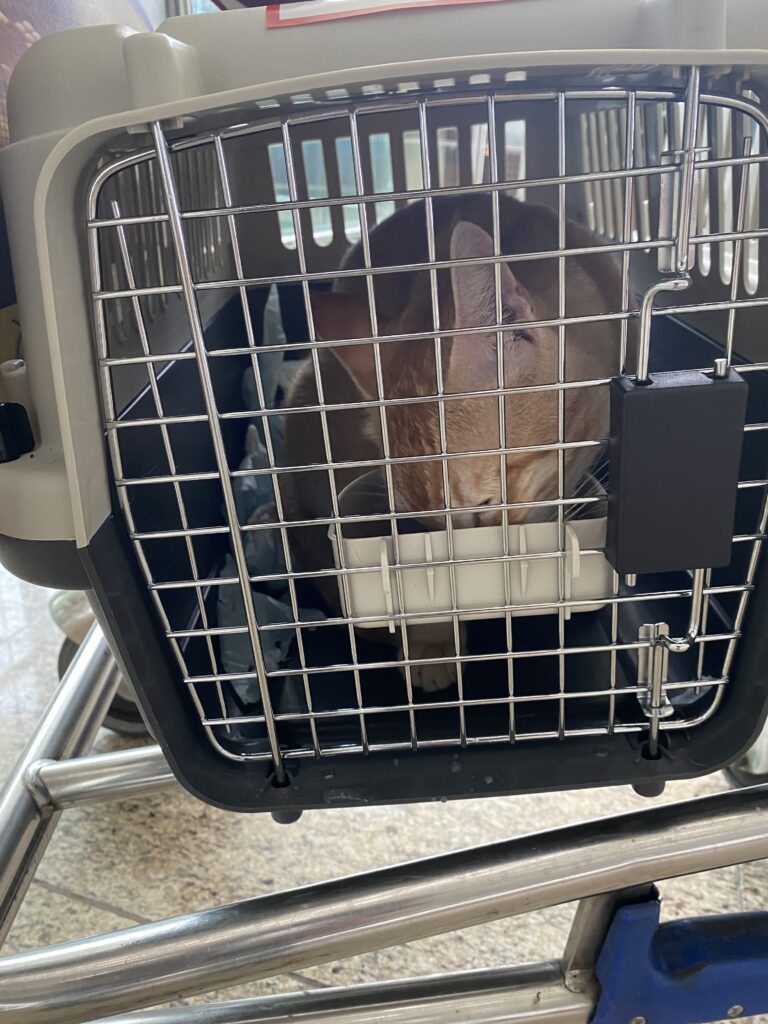 How was my experience with Air India's Pet service?
I had to fly from Mumbai to Guwahati. Unfortunately, there's no direct flight for me. I had to do a layover in Delhi. I took the early 10:00 am flight and reached the airport by 6:00 am. Since it was my first time flying, I wanted to make sure I have enough time on my hand. The security did not stop me, they let me right in. I then proceeded to the Air India counter and alerted them that I am travelling with 2 cats. They asked me to wait while they cleared it with the Duty Manager.
First, they checked the weights of my cat. Both were 7kgs with their carrier. So they were put in the hold. They checked their vaccination and fit to fly certificates, asked me to pay the extra baggage fee, and sign a declaration form. Now here's the shitty bit. I had to pay double the amount since I was in a connecting flight. So I paid 600/kg per cat from Mumbai to Delhi and the same again from Delhi to Guwahati. It was basically the same amount that I paid for my tickets.
This does not confirm the next leg's status though. That depends on the Pilot again.
Once all that was settled, we had to wait for the Pilot's confirmation. Which usually comes 45 min – 1 hour before boarding. Thankfully it was easy in leg 1 (Mum-Del). I had to go with my pets to get their carriers screened. Once that was done the staff took my boys while I went ahead and checked myself in.
After landing, I had two staff members of Air India waiting for me. They took me to where my boys were; they were accompanied by another staff. I picked them up and then the staff guided me to the arrival gate again. I had to do the whole process again. We cleared it with the Pilot in Delhi as well, I accompanied them for screening. Fed them food and water, changed their mats. The staff took them while I checked myself in again.
Finally touched Guwahati. Nobody waited for us here, I had to make my way around asking every staff I can lay my eyes on. My cats came in the conveyer belt this time around. I picked them up and walked straight out. My cats are anxious with the journey, but they are fine and handled well.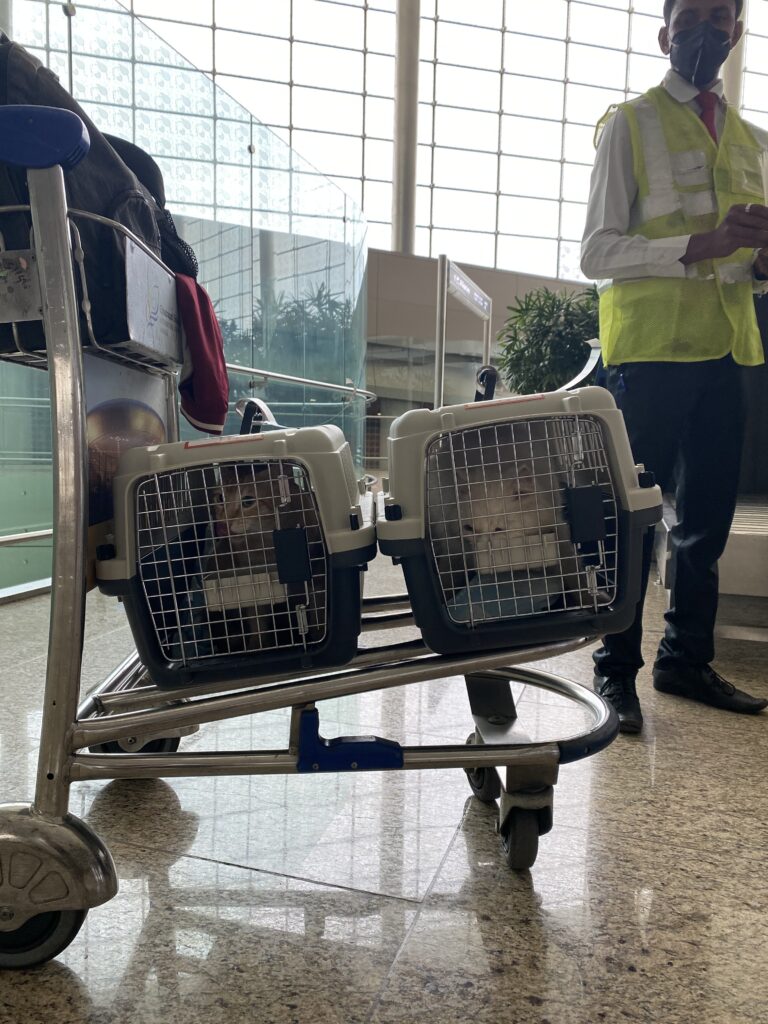 My thoughts on flying with pets in India
Flying With Pets In India wasn't as difficult as I thought. I am grateful that I could travel with the cats, but Air India has ought to make a few changes. For starters, nobody pays twice for extra baggage. If you're treating the pets in the hold as extra baggage, then charge once like you would with normal excess baggage. Air India should revisit their weight category. My cats could have easily gone in the cabin. The 5kgs limitation is very restrictive.
Read my beauty related articles here.