Limese is an e-commerce platform providing authentic k-beauty in India. They house various brands like CosRx, Limese, Dear Klairs, A By Bom, SNP Prep, Make P;rem etc. You can save 10% off on your orders with this Limese's Discount Coupon.
Discount Coupon Code
KHADIJA for 10% off.
Applocable on cart value over 1000 and you
can use it multiple times.
My Picks From Limese
COSRX Two In One Poreless Power Liquid aims to prevent pores from becoming clogged and enlarged. It also works to make them appear tighter. It cools inflamed skin and reduces excess sebum production, giving a fresh and radiant skin. Formulated with 88% Willow Bark Water, 0.1% Betaine Salicylate and Betaine. Helps clear pores and reduce their appearance for a smoother complexion. The power liquid also contains Tannin that works to make pores appear tightened. Other ingredients such as Allantoin, Panthenol and Menthol soothe and hydrate the skin.
COSRX Low pH Good Morning Gel Cleanser comes with a pH level closest to skin's natural pH levels. Its slightly acid pH helps clean skin without stripping it of its natural oils. It also restores the skin to its optimal pH. A mild yet effective cleanser, it leaves the skin feeling soft and moisturised after use. Good Morning Gel Cleanser controls excess sebum production, removes dead skin cells and clears pores and minimizes their appearance. Enriched with botanical ingredients it ensures that skin remains purified.
COSRX One Step Original Clear Pad is made of hypoallergenic cotton material and soaked in a BHA essence. Willow Bark Water and Betaine Salicylate are acne-fighting ingredients. They penetrate deep into the skin to clear excess sebum and unclog pores, which helps with controlling breakouts. They also exfoliate dead skin cells which brighten the skin. Willow Bark Water is also used instead of purified water in order to maximise the exfoliating and skin-clearing effects.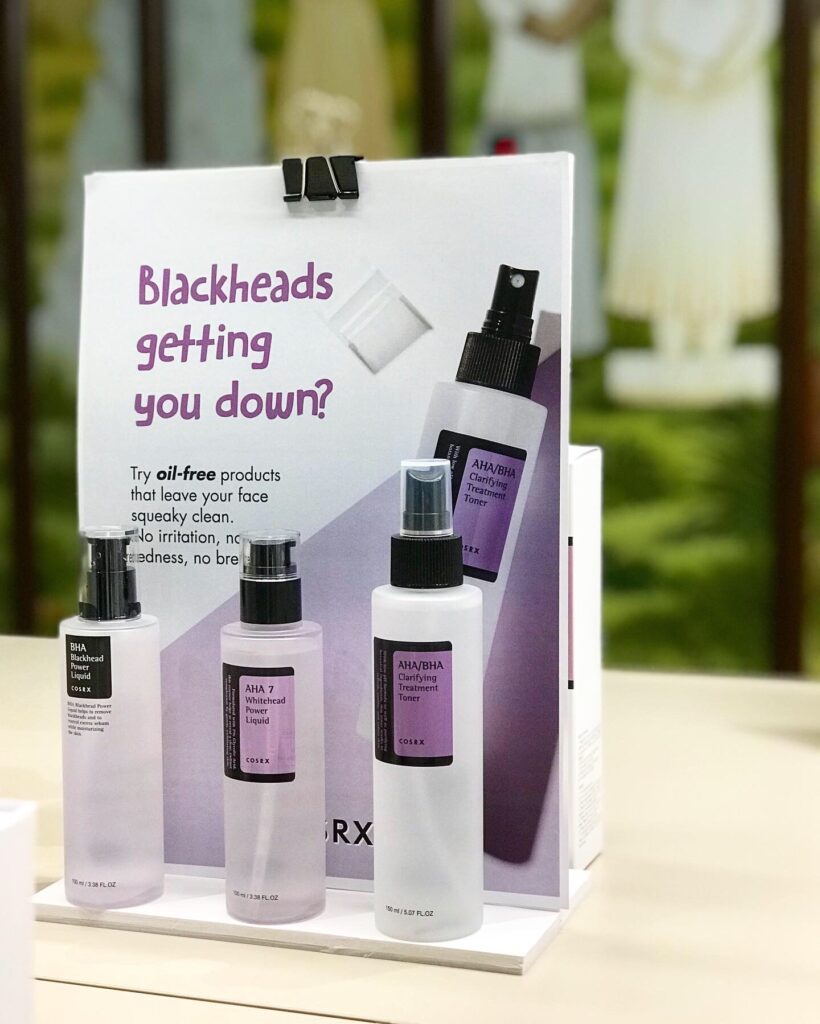 COSRX Hydrogel Very Simple Pack Infused with Ceramide NP, Cica extracts it quickly soothes, moisturises and calms irritated skin. Store in the refrigerator for a few minutes before application. The cooling sensation is brilliant. It is also infused with Willow bark extract that smoothens skin. While Hyaluronic Acid and Ceramide NP that hydrate and moisturise.
Klairs Midnight Blue Calming Cream soothes and calms redness caused by pimples/acne or other irritants. Strengthens skin barriers in extremely sensitive skin. It also helps in the regeneration of damaged skin. Prevents scarring and is good for after pore care, intense laser treatment, long term sun exposure and post-shaving.
Klairs Gentle Black Sugar Facial Polish. I am not a huge fan of physical exfoliants, but this one is an exception. Black sugar exfoliates the skin- removing blackheads and dead skin. It also helps control excess sebum production by balancing the skin's natural moisture levels. With fine granules, the scrub is softer and more gentle than a regular face scrub. Which makes it suitable for all skin types. The scrub also improves skin texture, leaving it feeling silky smooth and revealing a layer of bright, fresh skin.
Limese's Discount Coupon : KHADIJA
Read more about my articles on Skincare, Hair-care and beauty here. You can also find me on Instagram wherein I provide bite-sized content.