I don't know if it's just me, but a few years ago, I had zero clues about CTM (cleansing- toning- moisturizing). I honestly thought that it was all marketing strategies and that only a face wash will suffice. Little did I know. Ever since I've incorporated a good CTM in my skincare routine, my skin has been responding back with love. One such toner in my routine is the Chia Seed hydrating facial toner by The Face Shop. Now, this was my first expensive buy-in toners, but Nykaa had a good deal on it and I just had to go ahead and get it. Let me take you through whether you should purchase this, or save your money.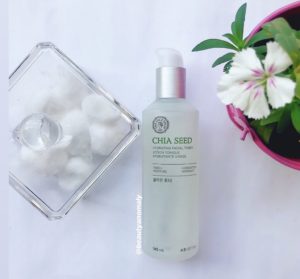 Would I recommend Chia Seed Facial Toner?
Although it is a little pricey, it'll still last you a good 3 to 4 months. If you want a toner that does not dry you out and does not feel sticky or irritates your skin but gives instant hydration and glow, this is it.
*EDIT: The Face Shop is not Cruelty-Free and hence I have discontinued using them.
An alternative to this toner would be Dr. Sheth's Gulab & Glycolic Toner. You can use code KHADIJA for 30% off.
If you like reading about skincare, take a look at my articles.
The Review
The Face Shop Chia Seed Hydrating Facial Toner
This toner offers immense hydration, as is the case with chia seeds. It helps tone the face and at the same time suits all skin type.
PROS
Super hydrating and smells heavenly.
Has a liquid consistency.
Tones the skin and gives an instant glow post use.
Non sticky and perfect for oily skin.
Can be used by all skin types.
Does not cause dryness.
Non irritant.