My search for an easily available, branded, silicone-free, without burning my pocket, conditioner is finally over! Biolage Smoothing Conditioner is the deal.
Growing up as a curly-haired girl, I never hated my hair, much like I hated taking care of it. It was thick, can't brush look ghostly, if not brushed feel messy. Washing my hair was a task and then drying was on a whole another level. Also going to the hostel didn't help, at all. I ended up chemically treating my hair for 2 years followed by excessive fashion colors for 4 years. My hair has finally decided to give up on me. So I took it onto myself to take care of this baby.
Starting CG Method was difficult. There were so many terms that I didn't understand, some that I still don't, but I knew a few things by heart to get started.
A. Avoid Sulphate
B. Avoid Silicone.
C. Avoid heat.
It's barely been a month that I've been on this routine, and I can see my hair slowly responding. Let me walk you through Matrix Biolage Smooth Proof Conditioner that I'm absolutely loving.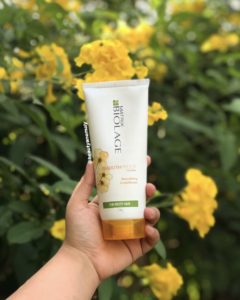 Would I recommend Biolage Smoothing Conditioner?
Yes, although it affects volume ever so slightly, it is one hell of a product. The way it makes your hair feel after the wash is just crazy. Since it is a salon grade conditioner, it does give you the salon finish after washes. The fragrance is subtle and lingers for a while.
If you like reading about skincare, take a look at my articles.
Matrix is NOT CRUELTY-FREE and hence I have stopped using them.
The Review
Matrix Biolage Smooth Proof Conditioner
It is a readily available, affordable silicone-free conditioner that makes the hair super soft. It also adds shine and is easier to tame.
PROS
Makes the hair smooth and controls frizz.
Silicone free.
Smells heavenly.
De tangles hair effortlessly.
Easily available in local stores and online.
Salon grade conditioner.
CONS
It effects volume, hair won't be as bouncy.
It gets over pretty soon, one 196 gm tube lasts me for 6 to 7 washes on medium hair.
It is not cruelty-free