Aroma Magic Neem & Tea Tree Face Wash DEALS
I don't know how exactly I feel about this brand. Like I love them even though the only products I used, didn't really live up to expectation. Like for example, I used their peppermint exfol gel, it didn't really work as they mentioned.
People with oily combination skin type love the neem and tea tree face wash. And as I belong to the same I thought of giving it a try. Aroma magic has some affordable products which if suits me could save me some bucks.
As were aware neem and tea tree both are excellent acne busters, so lets see how it fared out.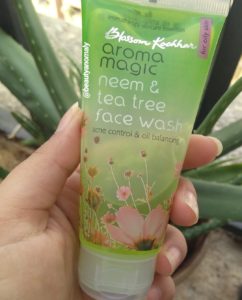 When the skin is stripped off of sebum completely, your mind signals your body to overcompensate and produce more oil. So it ends up being an endless cycle.
Will I recommend it?
I personally wouldn't as it did not suit me, but I also know a lot of people who love this product dearly. You could try the smaller pack to see if it might suit you.
If you like reading about skincare, take a look at my articles.
The Review
Aroma Magic Neem & Tea Tree Face Wash
It has a lovely fragrance and lathers up well, but it makes the skin dry and dehydrated, enlarges pores .
PROS
Has an amazing fragrance. It's not overpowering at all.
Cleanses well.
Does help with acne to an extent.
User friendly packaging.
Lathers well.
CONS
Strips off oil completely, makes face dry post use.
Creates a rough skin texture.
Makes pore appear large.