I love Sugar Cosmetics and their Smudge Me Not liquid lipstick is by far my favourite. Very rarely does a brand comes and sweeps you off your feet and that too in such an affordable price range. So far I've loved every product that I've used. Let us read about Sugar Cosmetics Eyeliner.
I'm not an eyeliner person, mainly because I can't apply liner properly, but this one just converted me. I will attach pictures taken throughout the day, without any touch-ups, to show you exactly how it fared. I want to introduce you guys to their Gloss Boss 24 hr eyeliner in 01 black.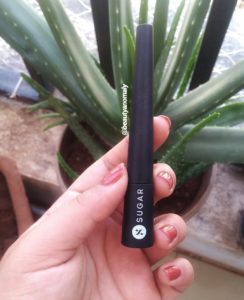 Will I recommend Sugar Cosmetics Eyeliner?
It is beautiful, sure the quantity isn't a lot, but it gets its job done and does it quite well. It is a beginner-friendly product which I appreciate. Stays on for a long period of time, thus making it great for work or college. It is jet black in colour and one swipe usually pays off.
If you like reading about makeup, take a look at my articles.
The Review
SUGAR Gloss Boss 24HR Eyeliner
It is an exceptionally good eyeliner. If you're someone who has to constantly be outdoors and like wearing liners this would be your safe bet.
PROS
It stays on for a long time, I wore it at 9 am and removed it at 11 pm, and it was there just the same.
It does not tug on your skin like other waterproof or long lasting eyeliners.
The color pay off is brilliant.
The wand and the applicator is beginner friendly, as someone who can't apply a wing liner properly, I got it right in the first try.
Has a matte finish.
The applicator is neither extremely free nor rigid, but the right amount of sturdy.
CONS
I would have liked a little more quantity of the actual product.