How many of us skip the sunscreen on a daily basis? Most. And wearing it indoors or during winters is a foreign concept altogether. Now it's funny because sunscreen can make or break the entire way your skin looks. It has a lot of benefits starting from protecting us from harmful sun rays to preventing wrinkles. Personally, I've never been a fan of sunscreen. Like oily skin and sunscreen? It's a big no. After trying a lot of products, I came down to two that not only suited my skin type but also made me look forward to using them. Neutrogena is one of them.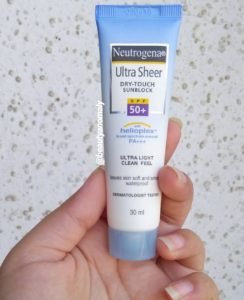 Would I recommend Neutrogena Sunblock?
Although I'm no fan of the texture it does its job quite efficiently and since it gets absorbed pretty quickly. Thus the texture doesn't really matter much. *EDIT: Neutrogena is not Cruelty-Free and hence I have discontinued using them.
However, here are some alternatives that I have been using lately. Reequil Oxybenzone And Omc Free Sunscreen SPF 50 It is lightweight, gets absorbed easily. It does not make you feel greasy either.
If you like reading about skincare, take a look at my articles.
The Review
Neutrogena Ultra Sheer Dry-Touch Sunblock
It has an SPF of 50+ and feels very light on the skin. It does not turn the face greasy or leave a white cast.
PROS
Has an SPF of 50+
Does not make the face sweaty or greasy.
Does not leave a white cast.
Gets absorbed in the skin super fast.
Travel friendly.
Has a pleasant smell.
CONS
Has a very thick texture that I'm particularly not a fan of.