Conscious Chemist Green Goodness Kit DEALS
This post has by far been the most awaited. I know I took forever on this but trust me it was for good reasons. Firstly it took me some time to get over my surprise that Conscious Chemist, an Indian brand, is producing such high-quality products and at the same time doing their small bits to save the environment.

On to the products, Conscious Chemist has so far launched three products – the facial cleanser, facial cream and body cleanser. All three have the same main ingredients, namely Hemp, Matcha Green Tea, Hyaluronic Acid and Grapefruit Essential Oil among others. Here's a brief on what roles the ingredients play.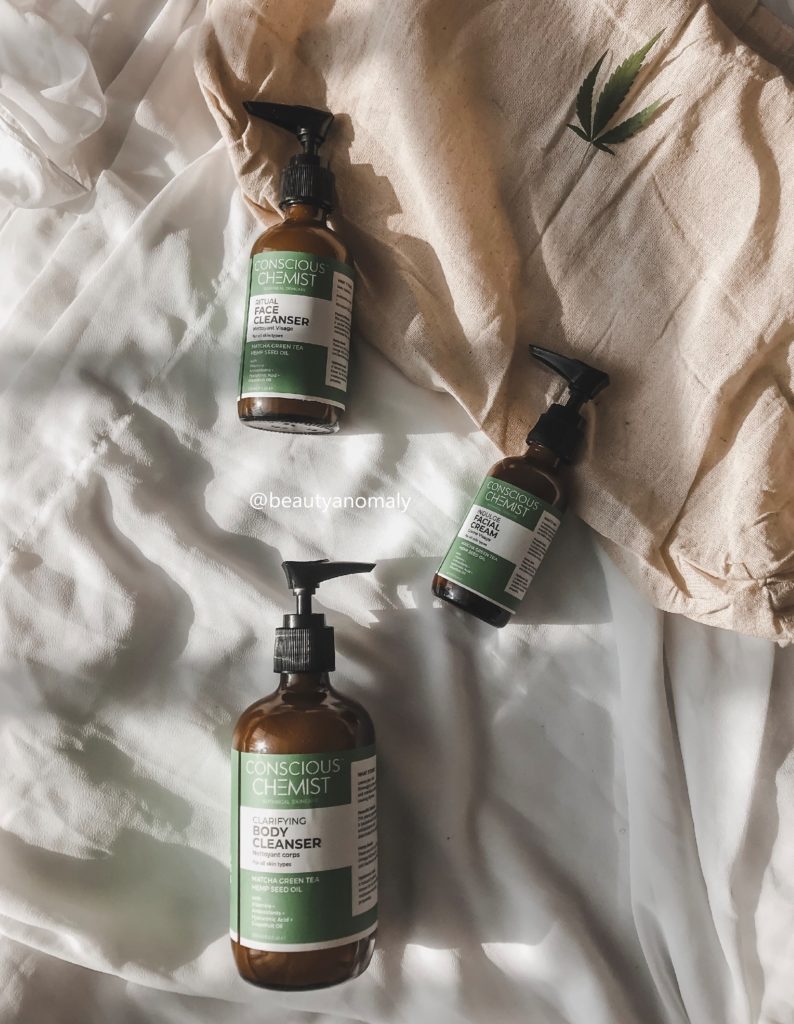 My thoughts
Ritual Face Cleanser:
Rich in hemp and hyaluronic acid, this cleanser keeps my face hydrated, nourished, and at the same time helped combat my acne to an extent. The best part about it is the fact that it does not leave my face dry after use. It is priced at Rs 875 for 120 ml, it will last you for more than 2 months. The cleanser has a cloudy gel-like consistency and has a slight citrus fragrance to it. It is a gentle cleanser and may not be enough to take off sunscreen on its own. A separate PM cleanser is recommended.
Indulge Facial Cream:
My first use with this particular product wasn't fun because it took my skin a while to get absorbed and eventually led to me feeling greasy. The trick is to use lesser than what you'd normally use and it works like a charm. It gets absorbed real quick, does not feel greasy, and has a very subtle scent to it. Priced at Rs 1095 for 60 ml, it will last you for 3-5 months depending on your usage.
Clarifying Body Cleanser:
This cleanser is a godsend, to be honest. I am someone that does not particularly like using lotions, mostly because all of them make me feel sticky and uncomfortable. And it definitely takes a toll as normal cleansers strip off dirt, grime, and natural oil leaving the skin dehydrated and dry. Since this cleanser has ingredients like hemp, hyaluronic acid, tocopherol (Vit E), niacinamide, among others, they work beautifully in keeping the skin well-nourished and hydrated. Priced at Rs 925 for 250 ml, this is definitely worth it.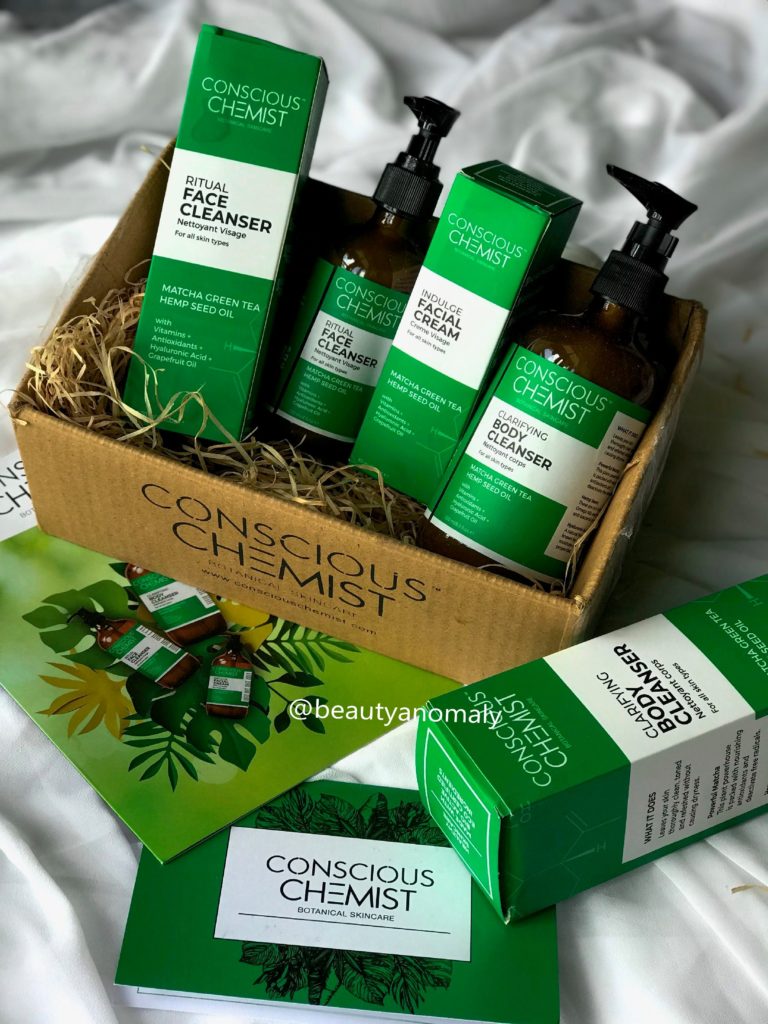 Would I recommend Conscious Chemist?
You know what my answer is. Yes! 100 times over. I try not to speak this highly of a brand, but honestly, this one won me over. Like I am going to commit to this brand. Period. So far in my use, I have not found any cons. I have noticed that the facial cleanser and the body cleanser have the same ingredients. If you find the face cleanser mild, you can definitely use the body cleanser as a face wash.
If you like reading reviews on skincare, check this one out.
The Review
Conscious Chemist Green Goodness Kit
Conscious Chemist provides clean and sustainable beauty. They are cruelty free and are soon coming up with a recycling program. Currently they only have the facial cleanser, the facial cream and the body cleanser.
PROS
The facial cleanser makes the face soft, keeps it well hydrated and at the same time cleanses effortlessly without stripping your skin. It has also helped reduce my acne.
The products come in glass packaging with a pump.
The body cleanser lathers beautifully, cleanses the skin well and keeps it hydrated and moisturized. For normal skin additional lotion isn't required either.
Great quantity and quality, will last a long time even with regular use.
The cream keeps the face hydrated and moisturized, does not feel heavy at all and less than a pump is required.
CONS
Has a citrus fragrance which might not be everyone's favorite.
Conscious Chemist Green Goodness Kit DEALS
We collect information from many stores for best price available
Best Price
Rs. 875